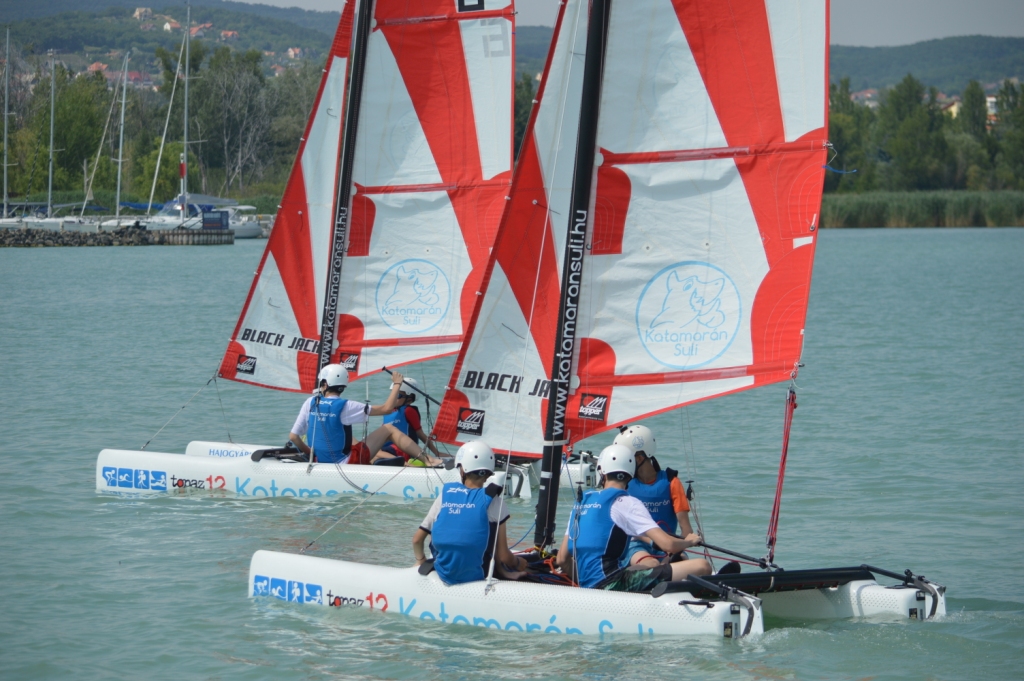 Amint véget ér a Kékszalag, az életünkben természetesen az utánpótlásé a főszerep, jöhet a Katamarán Suli.
Az első nap mindig a kötelező gyakorlatokkal indul mifelénk. Csemete fogadás, szülőkkel való személyes ismerkedés, szerződések és orvosi igazolások rendezése, majd az úszás tudás ellenőrzése. Lévén, hogy tombol a nyár, 25 fokos a Balaton és 35 fok a levegő, nem is kellett senkit belecsalni a vízbe, jött mindenki amint csak tudott.
Persze nem is mi lennénk, ha nem lenne az életünkben játék, már az első napon. A kötelező úszás próbát követően jöhettek a felfújhatós állatok, és persze a motorosból való ugrás bemutató. A jó munkáért jutalom járt, közkívánatra némi kerülővel és komoly gázzal érkeztünk vissza a kikötőbe a motorossal. Itt a remek tízórai várt ránk, ma épp Csokis croissan formájában.
Uzsi után némi hűsölés, csocsó és pingpong következett, majd ismerkedés a szélirányokkal és a katamarán felépítésével. A folyamaton Hajninak köszönhetően már mindenki napkrémmel a bőrén vehetett részt, melyet a Katamarán Suliban már jól megszokott limonádés kulacs kísért. Felszereltük tehát az összes kis katamaránt, majd ebédhez sorakoztunk. Talán a meleg, talán más okozta, de a leves lemaradt, ellenben a Brassói aprópecsenye szuper sültkrumplival érkezett, volt sikere. Tele hassal nem hajózunk, csak levezető mozgásokat végzünk – így kicsit tespedtünk az árnyékban, pingpongoztunk, csocsóztunk, majd beöltöztünk a vízre szálláshoz.
A katamarán veszélyes üzem, így nem csak kulacs és napkrém, de mentőmellény, bukósisak, lycra mellény és trapéz öv is védi a nebulóink egészségét. Ezek védelmében, de kellő optimizmussal minden hajónkkal kihajóztunk az igen mérsékeltnek mondható légmozgásban. Nem volt ez nagyon ellenünkre, hiszen az evezést is meg kellett tanulnunk, illetve a kikötőből való ki és behajózást. Na és persze az egyik legnépszerűbb gyakorlatot is letudtuk, a hajók felborítását és vissza állítását. No nem mondom, akadt aki az elején megszeppenve állt a trapézba kapaszkodva és nem is tudta elsőre beborítani a bárkát, de fel senki nem adta. A végére minden hajó legalább egyszer alaposan megmártózott a legénységével együtt, és persze újra talpra is állt. A nehezén tehát túl is lennénk, úszás próba és borulás próba – ezek nélkül nem is mehetnénk tovább.
A szerencse is mellénk szegődött, hiszen a Hajógyári öböl tihanyi végéből remek szellő kezdett fújdogálni, amit azonnal ki is használtunk. két jel között suhantak a kéttestű vitorlásaink, elszánt nebulóinkkal a fedélzetén. Nem mondom, olykor persze ingerküszön próbáló gyakorlatokat is meg kellett tekintenem a csibészeinktől. Akadt, aki idő előtt hagyta el a fedélzetet, megesett, hogy hűsítés jelleggel következett be spontán borulás, de akadt egylábas produkció is már az első napon. Te jó ég, mi is várhat még ránk…
Minden jó, ha a vége jó. Kiváló szélben vitorláztunk be a kikötőbe és vigyorral az orcánkon pakoltuk el estére a kis katamaránokat. Ezt követően meleg szendvics érkezett uzsonnára, aminek számomra meglepő módon, hatalmas sikere volt, kaptunk is ráadás kört, így nem csoda, ha a falatozás végéra szülők is befutottak. Nem kell aggódni, rátermett szülők ők, míg mi a szokásos napi értékelés tartottuk, az anyukák kávéztak, az apukák pedig forgóztak egy egészségeset a pingpong asztal körül.
Szöveg és fotó: Rozsda